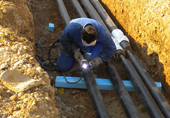 Junctions are a key network component and its durability depends on how well they are installed.
That is why
INPAL Energie
has trained and accredited all subcontractors used for junction installation.
INPAL Energie is officially registered as a training organisation with the Préfecture Rhône-Alpes, under the number 82 69 10623 69.
This training can therefore be undertaken as part of any French company's training plan.