Twin pipe junction kit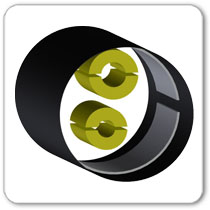 Twin pipe junction kits
consist of:
2 insulating shells required to re-insulate the bare ends of the parts
A steel ferrule with a longitudinal split to protect the junction mechanically. This ferrule must be welded on the casing of the tubes to be connected.
A heat-shrink strip to ensure perfect continuity of the system's PE coating and guarantee corrosion resistance.
Field of use: Industrial and special applications
Compliance: Standards EN 10216-2, EN10217-1/2, EN10216-5, EN10217-7, DIN1626/2458, DIN30670.
Technical evaluation: CSTB No. 14/10-1587
réalisation internet axome