Ball valves with air vents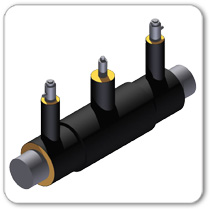 Description :
Pre-insulated valves with air vents are used to isolate and purge networks at points where this is necessary. They can be installed at all points on the network that are free from lateral expansion movements. Valves with air vents can be supplied with geared actuators which are included from ND 350, to open and close the valve more easily.
The ends of main pipe are not insulated over a length of 150 mm. Welds on the HDPE sheath are made in the factory.
Nordic or DELFIN alarm wires can be inserted into the insulation upon request.
Operating temperature: max. +148 °C continuous
Operating pressure: NP 25
Diameters: ND 20 to 1000
Geared actuators: ND 350 to 1000
Compliance: Standard EN 488
réalisation internet axome