C2 - Half-shell shrinkable junction kit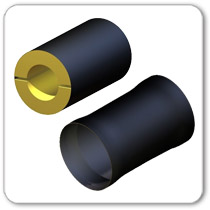 Description :
C2 half-shell junction kits are used to insulate the junctions of the network elements. They feature a quick and easy to use heat-shrink sleeve.
C2 half-shell shrinkable junction kits
include:
A non-drilled heat-shrinkable HDPE sliding muff,
2 rigid polyurethane foam half-shells,
A polyethylene protective film.
Diameters: for main pipes from ND 20 to 1000 (other diameters on demand)
Compliance: Standard EN 489
réalisation internet axome