Improving energy performance is a priority for Europe. Under the Kyoto Protocol, the European Union set itself the target for reducing greenhouse gases by 8% by 2012.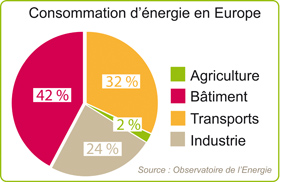 The construction sector today represents one third of total energy consumption, but also constitutes an important vector for making energy savings. In this sector it is heating that consumes the most energy.
Based on this fact, a large number of European countries have focused their efforts on
district heating solutions
.
The
5,000 district heating networks
which cover 10% of Europe's requirements in terms of heating are today seen as a reliable way of improving energy efficiency whilst promoting the use of renewable energies.
Almost 80% of district heating networks in Europe are supplied with heat resulting from cogeneration, the recovery of unavoidable heat and renewable energy sources.